"Rejuvenation" – painting process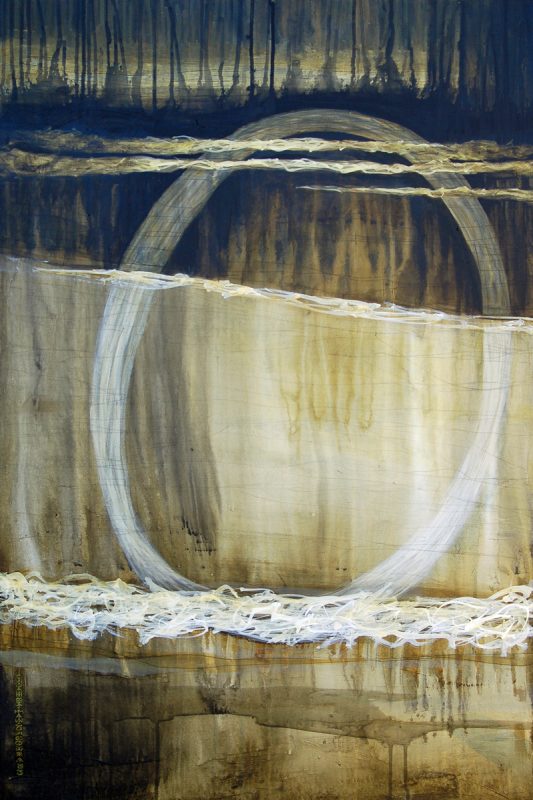 In preparing for my upcoming exhibit at Art & Soul Gallery in Sept I thought that it would be fun to paint a few acrylic paintings on canvas.
Thought you might enjoy viewing the process that I took to create this painting, "Rejuvenation" .
Step 1 – This painting began by intuitively layering paint on the canvas with no real idea as to where it will go.
Step 2 – Continuing with spontaneous and random applications with many layers of paint.
Step 3 – When I got to this stage I thought this painting might be complete – but then the next morning I just could not leave it alone.
Step 4 – Decided to flip the top of the painting to the bottom, I just like the feel of it better. Instead of the orb being black on the top and bottom I wanted it lighter -but now it just didn't seem to fit onto the painting.
Step 5 – Here I began to work on the composition to set the orb shape back into the painting.
Step 6 – The next day I was really happy about the direction that this painting had taken – love the feeling of mystery.
Step 7 – A few more touches tomorrow and this painting will definitely be finished, ready to be signed and varnished.
Step 8 – This painting is now finished and will be on dispaly for the month of September 2016 at Art & Soul Gallery in Ashland, Oregon
Save
Save
Save